Our Lightest Folding Bike

8-speed Shimano Altus drivetrain


Stronger frame and easy to use stem locks


All Aluminum Alloy Frame, Brake Levers, Seat post, Headset, Seatpost


Rust Resistant Components


Built for Speed and City Riding

Our best "All-around" bike

8-Speed Shimano Altus Drivetrain

8-Speed Shimano Revo Grip Shifter

All Aluminum Alloy Frame, Fork, Hubs, Chainring, Crankset, Brake Levers, Stem, Seat Post, Headset, Kickstand

Aluminum Alloy Double Wall rims

Kenda Kommuter 20x2" Tires
7-Speed Shimano Tourney Derailleur


7-Speed Shimano Revo Grip Shifter


All Aluminum Alloy Frame, Hubs, Brake Levers, Stem, Seat Post, Headset, Kickstand


Aluminum Alloy Double Wall Rims

Kenda Khan 20x1.95" Tires


Installed With Rear Rack, Front and Rear Fenders, Wide-Comfort Saddle

Weighs only 27 lbs (included fenders)


7-Speed Shimano Tourney Derailleur


7-Speed Shimano Revo Grip Shifter


All Aluminum Alloy Frame, Hubs, Brake Levers, Stem, Seat Post, Headset, Kickstand


Aluminum Alloy Double Wall Rims

Kenda Khan 20x1.95" Tires

7-Speed Shimano Tourney Drivetrain

7-Speed Shimano Revo Grip Shifter

All Aluminum Alloy Frame, Brake Levers, Seat Post, Headset

MAKO SHARK 20x2" Multi-terrain Tires

Full size 26" Foldable Mountain Bicycle


21-Speed Shimano Revo Grip Shifter


All Aluminum Alloy Frame, Brake Levers, Seat post, Headset


Front and Rear Disc Brakes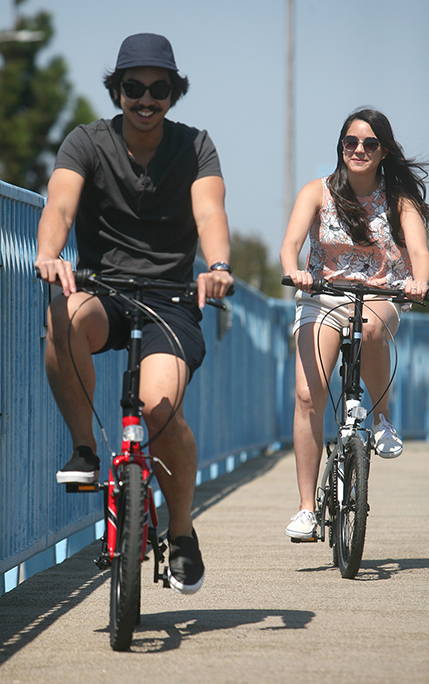 Merging Europe's cycling everywhere, all-the-time culture with America's fun loving and recreational life-style.

While Europeans are enjoying bicycling as the cleanest method of transportation and the healthiest form of recreation, Most American's, though agreeing with cycling's benefits, are missing out due to a spread-out landscape and a car centric life-style.​
ZiZZO's mission is to transplant European's love for cycling with all its benefits to the USA while eliminating the hassles that restrict Americans from enjoying the health and recreation associated with bicycling.
Traveling with you EuroMini ZiZZO folding bike
Let's face it, our lives are full of hassles, but our fun shouldn't be. Before we set out to design and make the perfect all-around "fun machine", we asked potential customers, "Why don't you ride or ride more often?"
We took the six most common answers and incorporated the solutions into ZiZZO bikes.

Want to learn more? Click below to find out!

The Science Behind Making
a Small bike ride Big
There is a lot of science and engineering that goes into making a good bike. There's lot more that goes into making a Great Bike; and ZiZZO's are GREAT bikes.
Have you ever wondered just how a "small" bike can ride "big"?

How do you make a bike that is lightweight AND strong?

How do you engineer a bike to ride comfortably AND efficiently?

Take a look at how we tackled these questions and many more!

Your satisfaction is our number one priority!
Starts from design to after-sales service, we always have your satisfaction in mind.
Please do not hesitated to contact us with anything you would like to ask, to know, and to see! No machines, no recordings, just real people CONTACT US!
Share your Adventures, ask Technical Questions or give us your Feedback at our Forum!

WE'D LOVE TO HEAR BACK FROM YOU!